HMS Misoa - Landing Ship Tank (LST).
A Shallow Draft Converted Oil Tanker from South America which served off North Africa, Pantelleria, Sicily, Italy and Normandy.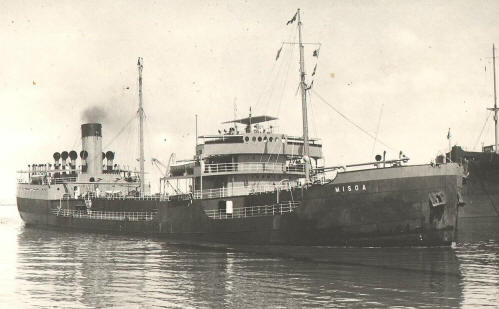 Background
HMS Misoa was a WW2 Landing Ship Tank (LST), essentially a military ferry capable of landing troops, tanks, transport, supplies etc directly onto unimproved landing beaches. Archie Spence was a young Royal Navy seaman, who served aboard her in the Mediterranean (North Africa, Pantellaria, Sicily and Italy) and later during the Normandy invasion of June 6, 1944.
[Photo of Misoa taken in the 1930s courtesy of William Russell whose great uncle, William Marshall Russell, was the Master of the Ship when it was an oil tanker, prior to its conversion to a tank landing ship.]
HMS Misoa did not have the sleek lines and style of a cruiser but she survived the war relatively unscathed and provided a safe haven for her crew and the many thousands of troops she carried during WW2. This is the story of HMS Misoa as recalled by Archie Spence who served on the ship.
My posting to HMS Misoa was not the result of careful career planning. For reasons I cannot recall, I initially volunteered for sub-mariner training at HMS Dolphin but fell foul of the Naval discipline code, resulting in my being confined to barracks (CB) on a couple of occasions. Nothing serious - just youthful exuberance combined with a little disrespect for authority!
I was returned to 'general service' at Portsmouth barracks and worked as an ambulance driver, while waiting for a posting. When a posting to HMS Misoa came along so did a bit of a mystery; nobody I came in contact with knew anything about her or simply would not admit it! About 100 of us travelled by train to Liverpool, where we boarded the troopship Monarch of Bermuda. Our destination was a mystery to us until we arrived off Gibraltar. For about a week, we lived in barracks and unloaded sea mines from railway wagons into secure storage tunnels inside the Rock. Our next trip was aboard the destroyer HMS Venomous bound for Oran but were soon diverted on a fruitless search for German submarines in the Atlantic. We finally arrived in Oran, where we were first introduced to HMS Misoa.
[Photo: the author Archie Spence c 1942.]
What she lacked in the sleek lines of a Cruiser or Destroyer, she more than compensated for in looking like the dirty old oil tanker that she once was! She was one of three shallow draught tankers especially designed and built to operate in the shallow waters of Venezuela's Lake Maracaibo in the north of South America. The others were HMS Tasajera and HMS Bachaquera. As the plans for the opening of a second front in the west progressed there was a developing requirement for shallow draft vessels capable of disembarking heavy tanks, trucks, field guns, mobile radar trucks, equipment and men directly onto unimproved landing beaches. An essential requirement to keep the Allied armies supplied in the absence of a useable harbour. Any interruption in the supply chain, especially in the early stages of the Allied invasion, had the potential to bring the hoped for Allied advance to a grinding halt.
Modifications
The three vessels required substantial modifications to make them fit for purpose. Her oil tanks were removed from forward of the after bulkheads in the area of the engine room. Approximately half the tanks remained for fresh water and ballast. A deck was added above this area, coated with asphalt, providing 7 lanes for vehicles.
The bow was cut off square and the gap this created was bridged by a heavy steel door approximately 1 foot thick. Hinged to the top of the door was a massive ramp extension which, together with the door, provided the 100 foot ramp needed to safely unload vehicles and men on or close to landing beaches.
There was a system of powered winches and pulleys, operated by the engine room crew, to lower the door and to raise the hinged extension until both door and extensions formed a continuous ramp as both sections reached a near horizontal position. Across the tank deck, bolts were fitted for securing vehicles in position with restraining chains. Shallow draught vessels were prone to roll, even in moderate conditions, when the pounding of the waves on the blunt bow door sent a booming noise throughout the entire vessel.
Above the tank deck was a steel 'top deck' covered in 12" by 4" timber planks of various lengths, with two large hatches aft. Nearby were 2 X 50 ton derrick cranes to lift broken down vehicles from the tank deck below onto the top deck. In this way such a vehicle was removed from the line allowing the other vehicles to disembark. The bridge and wheelhouse were reinforced with steel plates as protection against shrapnel and gun platforms were mounted around the top deck. These co
mprised a twin 40mm Pom-Pom gun, six 20mm AA guns and Lewis guns on stanchions, one forward and two aft and one smoke mortar. The Kedge anchor was located at the after end.
Sleeping quarters for crew and passengers were very constricted. They consisted of rows of round steel bars attached to the deck-head, on which hammocks were rigged. On completion of the conversion work the designation 'Landing Ship Tank' (LST) was used.
HMS Misoa was 382ft in length with a gross tonnage of 4,900. The draught when fully loaded was 15' aft and only 4' forward with a double hinged ramp reaching 100ft from bow door to shallow water. Her carrying capacity was eighteen 30 ton tanks, twenty two 25 ton tanks or 33 heavy trucks. Berths for 217 troops and a crew of 98 Combined Operations personnel were provided. She had a distinctive flat bow and an equally distinctive ship's crest of a tortoise with the words Veni-Vidi-Vici - I came, I saw, I conquered around it.
Sea Trials and Training
Hearsay information from the commissioning crew indicated that her sea trials and training with Commandos took place in and around Loch Fyne in Scotland, where the No 1 Combined Training Centre was located at Inveraray.
Operation Torch - North Africa
HMS Bachaquera was the first LST to engage in operational duties in WW2 off the beaches of Madagascar on the 6th of May 1942. HMS Misoa and HMS Tasajera made their active service debuts in Operation Torch, the invasion of North Africa at Oran on the 8th of November 1942.
[Map courtesy of Google Map Data 2017.]
The 16th Infantry Regiment cleared 'Z' beach for the 3 am arrival of the American 1st Armored Divisionís Combat Command B, under Brig General Lunsford E. Oliver. Misoa and Tasajera, rumbled up to the beach at 4 am and put out pontoon bridges to assist the M3 Stuart light tanks they carried to disembark. The process took four hours.
The 4,772 men landed from all vessels in the flotilla, together with their tanks, seized the La Senia and Tafaroui airfields and then supported a parachute assault on them. In the wider conflict along the coast, Misoa was variously engaged in transporting American troops and their equipment from Algiers to Bone, further to the east, until that part of North Africa was firmly in Allied hands. Passage to Sousse in Tunisia followed to provide support for future operations involving the Eighth Army.
Supplying fortress Malta was always a priority and HMS Misoa made a couple of trips from Sousse to Malta with munitions, and from the ship's freezer, meat and vegetables. On return, she was dry docked in Tripoli for a routine inspection following intensive bombing by the enemy. Remarkably, she was unscathed. That night there was an air raid on the nearby airfield and reports circulated of German paratroopers in the area. I was on gangway sentry duty that night and only me and the dry-cleaners know how scared I was!
[Photo; The author (front centre) with friendly French North Africans and two shipmates in Algiers c1943.]
In between periods of hard work and danger, we made our own entertainment. We acquired a piano in Sousse and cleared a small area of the tank deck, which became our entertainment area for impromptu sing-songs. We were not short of comedians and entertainers among the crew, often supplemented by the troops when they were on board. One memorable evening, while tied up at Sousse, the strains of the bagpipes could be heard from the quayside. We looked down to see the piper, who led the troops at the start of the Battle of El Alamein, marching up and down the quay alongside our ship. He and his mates enjoyed the traditional hospitality of the Navy, which included several tots of rum! It was a most enjoyable evening for all. There were other distractions from the realities of war ranging from Roman ruins to local 'fleshpots,' both of which were educational in their own ways!
Pantellaria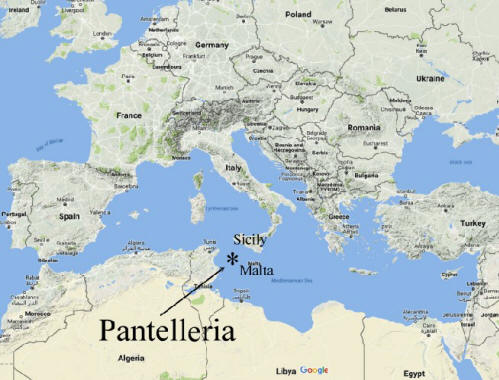 On completion of this work in early June 1943, we embarked the tanks and crews of the Guards Regiment for passage to Pantellaria. We arrived about dawn. There were so many Allied bombers overhead that they were quite impossible to count! The intensity of bombing caused the Italian garrison of 12,000 to surrender, so disembarkation was relatively straightforward. We entered a small cove with road access inland and secured the ship to rocky outcrops. A shipmate and I strolled into a nearby vineyard and helped ourselves to some grapes. The landings may have been unopposed but the two heroic invaders beat a hasty retreat when an irate farmer, with pitchfork in hand, came to the defence of his crop!
[Map courtesy of Google Map Data 2017.]
HMS Misoa returned to Sousse where more troops and equipment were embarked, this time for the islands of Lampadusa and Linosa. The Italian garrisons had surrendered, so we returned to Sousse with Italian prisoners of war guarded by paratroopers.
Sicily and Italy
Allied focus then fell on Sicily. Operation Husky was scheduled for July 9/10, 1943. In preparation, HMS Misoa embarked Eighth Army troops and tanks at Sousse for transport to a beach near Syracuse in Sicily. In the following 2 months, we made frequent passages to Sousse with German and Italian prisoners, captured tanks and military equipment. On return journeys to Syracuse, Augusta and Catania on Sicily, we carried supplies, materials, troops and, on one occasion, dozens of ammunition boxes full of 'occupation' Italian Lira. The money was for the Allied occupation troops to use in Sicily and Italy and, while in transit, it was kept under guard by military police.
Our journeys across the Mediterranean at this time were akin to a regular ferry service plying the goods of war from North Africa to Sicily and Italy, and prisoners of war and captured enemy war materials on the return trips. The routine was broken occasionally by an unusual load such as mules and their Arab masters. The smell and mess they left behind is better imagined than described but they performed well in remote, inaccessible mountains carrying supplies to the advancing Allied forces.
Secret negotiations for the surrender of Italian forces were concluded in Lisbon and an armistice was signed at Syracuse on the 3rd of September, 1943 - the day of the uncontested landing of Allied forces at Reggio in Calabria on the Italian mainland. Taranto was seized on the 9th, again unopposed. On route to Taranto on one voyage, I saw part of the Italian fleet, including 4 battleships and 6 cruisers, heading south for Malta to surrender to Allied forces.
Return to the UK - preparations for Normandy
We loaded up the latest captured German and Italian guns, tanks, communications vehicles and half-tracks and left Taranto for a stopover at Algiers, arriving in Plymouth in early January,1944. Misoa needed repairs and modification for her next major role, which turned out to be the Normandy landings. The minor refit included replacing the forward single 40 mm Pom-Pom with a twin version, engine repairs, general maintenance work, possibly the addition of some form of radar and a complete camouflage repaint.
We were on leave while the work was in progress and on the 16th January, 1944, I spent my 21st birthday at home in Glasgow. A few weeks later, Misoa was undergoing sea trials in the English Channel from Plymouth and westward to Southend on Sea in the Thames estuary. As D-Day approached, the ship was berthed at the Tilbury Docks in east London where, in early June, we embarked Canadian troops and tanks. For security reasons, the ship was then sealed. For three days we were confined to the vessel, when we learned about the coming action. I was privileged to attend the troops' briefing, including details of their landing zone on Juno beach and their objective of the city of Caen about 7 miles (12 k) inland.
Normandy Landings 6th June 1944 - D-Day
We left Tilbury on June 4th before the decision was taken to postpone D-Day because of rough weather. Our convoy killed time sailing around the English Channel. The sea was choppy and sea-sickness was rife as our shallow draft, flat bottomed vessel pitched and rolled. We arrived off Juno at about daybreak on D-Day, close enough to see the action on the beach, that could easily have been mistaken for a film set. We saw two tanks chasing each other, guns blazing and heard two ton shells passing overhead, as the German large guns attempted to destroy allied battleships out at sea. Our sister ship, HMS Bachequera, which was off the neighbouring Sword beach, was hit by an 88mm anti personnel shell. Although damage was slight and casualties few, as Coxswain, I took the Captain by launch to the Bachequera to see first hand if assistance was required.
We disembarked the troops, their tanks and equipment the following day, by which time there was little enemy fire on the beach itself. We returned to Tilbury Docks and embarked a second cargo of tanks, vehicles and soldiers for Juno. This time they were disembarked almost right away, except there was a mishap. A tank slipped sideways blocking the ramp and leaving the ship stranded on the beach, as the tide receded, until the following morning. A couple of German fighters strafed the beach in a half-hearted attack but no damage was sustained. From the relative safety of my vantage point under the ship, painting the bottom, I had a clear view of the action!
[Photo; HMS Misoa and HMS Tasajera on Juno beach 1944.]
Motor torpedo boats (MTBs), motor gun boats (MGBs) and other small craft continued to operate around the beachhead area to help protect the beachhead and supply ships from enemy attack. We anchored off the beachhead and acted as mother ship to these vessels by providing medical services, mess facilities, showers and, in the case of a shipmate and myself, a profitable and legal haircutting service! When the anchorage became entirely safe, our engineers also provided a repair and maintenance service. We became a semi-permanent fixture off the beach as stores and provisions were brought to us from supply ships.
It was an uneventful period until the 18th of June, when a severe storm lasting a few days, hit the English Channel. Ships dragged anchors and one collided with the starboard side of our bridge, causing structural damage and smashing a lifeboat. Since the bridge contained an ammunition locker holding 20mm A A shells, all hands were deployed to remove them to a safer place.
[Photo; HMS Misoa on Juno beach 1944.]
The routine was interrupted for a second time towards the end of October, when we embarked a Royal Marine outfit off Arromanches with their vehicles and fighting gear. Rumour was that they were bound for the Dutch Island of Walcheren heavily garrisoned with 10,000 troops and heavy guns. While the Germans were there, the port of Antwerp, already in Allied hands, could not be used to supply the advancing armies. A couple of days after embarking, the order was rescinded and the marines disembarked without sailing.
As the Allies pushed the Germans eastwards, organised weekend visits were made to local chateaux, places of interest and movie shows in local barns. My shipmate and I set off on a trip to Paris over 100 miles (160 k) away, so we stayed overnight at an army barracks near Lisieux. When we learned there was still fighting in the Paris area, we set a new course for Rouen instead, where a good time was had.
We remained on station at Arromanches until early 1945, when we were recalled to Harwich to dispose of obsolete Bangalore torpedoes by dumping them in the North Sea.
Our work done, we returned to Inveraray on Loch Fyne, Scotland, the home of the No 1 Combined Operations Training Base, where HMS Misoa was decommissioned. However, as part of the cutter boat crew, I was given medical checks prior to being drafted to the River Rhine in Germany to man landing craft across the river. As was often the case in the war, there was a change of plan and the posting was cancelled, much to my chagrin.
As a Scot, I was proud to be a member of the ship's company. We came from the UK, Eire, Australia and South Africa and we stood together through all emergencies and enemy action. The ship was hit once by a skip bomb, which failed to explode. There was slight damage to the mid-ship super structure but no casualties. HMS Misoa was a very lucky ship indeed and when, in April/May of 1945, her crew, my mates and myself, dispersed from Inveraray to different bases throughout the UK, there was a sense of melancholy at the passing of a unique shared experience. I celebrated Victory in Europe day in Portsmouth on May 8, 1945.
Personal Reflections
The ship had been my home for just over two and a half years. Living conditions were very confined and when the hammocks were slung out, walking upright was impossible. The sounding of action stations caused a form of organized chaos. When troops were on board, the priority was for the naval crew to reach their action stations and guards were posted to keep the troops below until they were fully manned and operational. There was never any panic and we coped well with these deprivations.
The mess deck was part of the living quarters. Each mess comprised 12 sailors and a leading hand or senior hand, the latter to keep order and to deal with complaints. Seating arrangements were simple - 6 sailors each side of a long table. In weekly rotation, two sailors were detailed as cooks with responsibility for ordering provisions from the NAFFI store, within prescribed limits. The food
was stored in large urns and the portions required taken to the galley, where 'real cooks' prepared the meals using steam as the heat source. Most of the food was dried - beans, peas, porridge, eggs, fruit, meat and tons of rice. Occasionally, tinned vegetables and fruit were available and a tot of rum was issued with lunch, which helped to brighten the day.
[Photo; LST Bachaquero, a converted shallow draught tanker shown approaching the beach. Sister ship of the Misoa. © IWM (A 20034).]
At 1100 hrs each day, an announcement about the issue of the rum was piped throughout the ship. It was collected by senior members of the Mess. Across the Royal Navy there were three strengths of rum, determined by the quality of living conditions. The greater the deprivations the stronger the rum! At the one extremity, barracks and big ships received one part rum and two parts of water and at the other end, which included HMS Misoa, neat rum was issued. In between the ratio of water to rum was 1:1.
There was no privacy to speak of and there was another major deprivation as well. On the occasion of a visit to the ship by Lord Louis Mountbatten, he was left in no doubt about the men's main grievance - 'No mail!' We never had any prior notice of the ship's destination, so it was difficult for mail to keep up; but that didn't stop rumours and speculation. The usual form was for the Captain to make an announcement to the ship's crew over the intercom, once the ship was at sea.
I was finally demobbed in April 1946, with two months leave due. My pay, during my period of service, ranged from two shillings and six pence (12.5p) to seven shillings and six pence (37.5p) per day. Settling back into 'civvy' life was never going to be easy and although I could return to my pre-war job with the NAFFI, I preferred to try something different. The Labour Exchange suggested employment as a stone mason, which I 'politely' declined. Next a visit to the Broomielaw down by the River Clyde in Glasgow, where I signed up for the Merchant Navy. The next 15 years were spent on tramp steamers and oil tankers worldwide, rigger work on a dam in Victoria, Australia, steel erector and shark fisherman in Tasmania, tuna fisherman in New South Wales, forestry work in Victoria, steel erector in Melbourne, Merchant Navy in New Zealand and, having married and settled down, 25 years in forestry until retirement in the mid 80s.
Much of the time I spent in the Mediterranean was routine where, with the passage of time, one day has blurred into the next. However, there were times of great danger, which heightened my awareness of the terrifying nature of modern warfare. The runs from Algiers to Bone in convoy saw us attacked by German bombers using both conventional bombs and torpedoes. In the case of the latter, the planes flew in so low that we were in danger of being hit by our own side's gunners as they lowered their sights to a horizontal position. We were also very vulnerable to air raids, of which there were many, usually while in port.
Pantelleria was quiet but in Sicily and Italy the Italians engaged in high level bombing, while the Germans strafed the beaches from just a few hundred feet. We also found ourselves in the middle of a minefield in Taranto Bay, with all the associated risks of being blown out of the water. A minesweeper came to our rescue and swept a safe passage for us.
Off the beaches of Normandy we disembarked our first cargo of men and tanks on D + 1 but we were close enough to the beaches on D-Day itself to be aware of what was going on during the initial landings. Those brave men in the small landing craft knew that many of them would be killed or seriously wounded... and yet wave after wave of them made for the beaches. It would not have been human for those of us watching the action from a safer distance to feel anything but gratitude that, on this occasion, we were spared the ordeal.
[Photo - the author, Archie Spence c 2002.]
As I watched the armada of small landing craft pass us by, I said to myself, 'Good luck you guys!' .... and that was the nature of total war. For the average serviceman the difference between life and death or serious injury was all down to luck - being in the right place at the right time. Although there were times of great danger on board HMS Misoa she, and her crew, came through unscathed. When I left her for the last time in 1945, I had far more respect and affection for her than when I first saw her as a 'dirty old oil-tanker!' She was indeed a lucky ship!
Further Reading
There are around 300 books listed on our 'Combined Operations Books' page. They, or any other books you know about, can be purchased on-line from the Advanced Book Exchange (ABE). Their search banner link, on our 'Books' page, checks the shelves of thousands of book shops world-wide. Just type in, or copy and paste the title of your choice, or use the 'keyword' box for book suggestions. There's no obligation to buy, no registration and no passwords.
Correspondence
I spotted a photo of HMS Misoa on Facebook and did a little exploration around the web. After the war she had 4 owners: 1946, the Panama Tpt Co; 1952 the Creole Petrolium Corp; 1956 as PETRA MAR, the Maritima Argagua SA and 1957 as STANVA RIAU, the Lennoc Corp. She was scrapped in Hong Kong in late '62 early '63. Interestingly, she was built at Haverton Hill, on the Tees, about 12 miles from my hometown of Hartlepool, although I no longer live there, preferring the country life in Upper Teesdale since I retired.
I hope this is of interest to you and your readers.
Aye
(Captain Pat Thompson OBE RFA (Rtd)
---
Dear Geoff,
Attached are pictures of a ship's bell which may have come off the ship described on your website.
My father in law purchased the bell for $60.00 sometime between 1970 and 1972 at a pawn shop on Pine Street in Philadelphia, Pennslyvania. How the bell ever made its way to Philadelphia in America we may never know. He displayed it outside his house in Broomall, Pennslyvania for 40 years and used it to call the children home for dinner when they were out playing in the neighborhood. My wife and I now have the bell on display at our home in Lancaster, Pennslyvania and are conducting research on the history of the Misoa to share with friends and family when they visit our home. What we have found out thus far is very interesting and we now realize that we have a wonderful piece of Royal Navy History. Thank you so much for your comments and feel free to use this information on your website as you see fit.
Acknowledgments
HMS Misoa - a WW2 Landing Craft Tank (LST) by Archie Spence. Edited for website presentation by Geoff Slee with the addition of photographs and maps.