601 LCM (Landing Craft Mechanised) Flotilla not only battled against the enemy as they ferried supplies and ammunition from ship to shore for 6 weeks from D-Day - they also battled against the elements with tragic consequences.
The British Mk1 LCM (Landing Craft Mechanised) was the type allocated to the men of 601 LCM Flotilla. They were some 44 feet in length by 14 feet across the bows. The vast majority of the 500 British built Mk1s came from the workshops of the Great Western Railway at Swindon in Wiltshire and from the Southern Railways workshops at Eastleigh, Hampshire. Others were built in various other metal-working factories that were constructed between 1940 and 1944. [Photo opposite of a Mk1 LCM of the type allocated to the men of 601 LCM Flotilla. This particular craft, HMLCM 228 took no part in the D-Day operation but LCM 229, the next in line, was 'Leader' of 601 LCM carrying Flotilla Officer Derek Green RM at the point of departure from Itchenor bound for Normandy. Courtesy of Danny Lovell.]
They were designed by Thorneycroft and could carry a 16 ton tank or 6 jeeps or 100 troops and carried pennant numbers in the range from LCM 1 through to LCM 500.They were driven by 2-shaft Thorneycroft or Chrysler petrol motors producing around 120 brake horse power and a speed of just over 7 knots. Armament comprised two .303 calibre Lewis machine guns. The crew comprised 6 men with an officer being assigned to every third craft.
American Mk 3 LCM were diesel driven craft designed by Andrew Higgins. He also designed and built the LCVP (Landing Craft Vehicle (Personnel), the USA equivalent of the British LCA (Landing Craft Assault). Many LCM3 served with the Royal Navy and Royal Marines under Lend-Lease. They were 50 feet in length by 14 feet across the bows and were driven by 2-shaft Diesel motors B.H.P 220/450 giving a speed of between 8-11 knots. Armament comprised two .50 calibre machine guns and could carry a 30 ton tank or 60 troops. Her crew complement was 3 men.
Prior to June 6th 1944 the British built Mk1 LCMs of 601 Flotilla were based at Shoreham Harbour on the south coast of England to the west of Brighton. In a later re-organisation of 'F' Build-Up Squadron, of which 601 Flotilla was part, it moved to shore base HMS Sea Serpent at Bracklesham Bay where the craft were moored at Itchenor Creek near Chichester. During this period exercises and practice landings continued unabated and half the men and craft of 601 took part in the review of the Invasion Fleet by King George V1 just before D-Day. At that time the flotilla complement comprised some 6 officers and 156 other ranks including reserve crews.
Shortly before D-Day the administration officer, reserve naval officer and reserve crews moved to a port of embarkation to board a troopship while the engineer officer with part of the maintenance party joined a workshop barge, all with the intention of rejoining the flotilla after the initial landings. Around the same time the craft of 601 carried out loading operations in the Solent with payloads varying from transport vehicles for beach parties, command trucks for the assault tanks, ammunition trailers pulled by jeeps and crated ammunition to replenish the supplies following the initial assault.
On June 2nd 1944 a briefing took place at HMS Sea Serpent about the landing beaches, enemy defences and the opposition likely to be encountered. The invasion was planned for June 5 but due to bad weather was rescheduled for June 6 but not before many craft had set out in order to arrive on the beaches on the earlier date. They were stopped and turned about. This added to the discomfort of the men who by then had been confined to their craft for four days for security reasons.
Finally, on June 5th, the eve of D-Day, the 16 Mk1 LCMs of 601 LCM Flotilla, accompanied by their sister craft of the 600 and 604 Flotillas and the Mk3 LCMs of 650, 651 and 652 Flotillas weighed anchor and proceeded in single line ahead down Itchenor Creek having come out of Birdham Pool. The captain of HMS Sea Serpent took the salute from each craft as it passed the pier-head.
The full complement of 'F' Build-Up Squadron at that time comprised 96 Mk1 LCMs - 6 flotillas comprising 16 LCMs, each craft with a 6 man crew, they being a coxswain, stoker/driver and 4 deck hands. Every third craft carried a boat officer, the three craft together being a sub-division of the whole; a total of 608 men. Whether or not each and every single craft assigned to the squadron was present when they set out cannot be confirmed. According to official records at the point of departure 601 LCM Flotilla comprised Mk1 LCMs 166, *168, *180, 199, *216, *226, *229, 238, 256, 266, 276, 298, *330, 339, *346 and *383. * Signifies War Loss in Normandy during June/July 1944.
Carried in LCM 229 was 22 year old Flotilla Officer, Captain Derek Inglis Green, RM (photo) making the craft 'Flotilla Leader'. Green was born in the village of Ben Rhydding, Ilkley, on the outskirts of Bradford, West Yorkshire and had been educated at the famous Rugby Public School in Warwickshire, the school being immortalised in the famous book 'Tom Brown's Schooldays' by Thomas Hughes. He joined the Royal Marines in May 1941 prior to which he had worked in his father's firm of timber merchants at Silsden, Keighley, Yorkshire. His brother Captain Jack Green had been taken prisoner in 1943 whilst serving with an infantry regiment. Their father, John Green, had once been captain of the Yorkshire and England rugby team.
After departing Itchenor the squadron proceeded to the rendezvous for FORCE J (Juno beach) the craft being positioned about 2 to 3 miles off the Nab Tower which is to the eastwards of the Isle of Wight. All the craft carried extra fuel for the sea trip in Jerry cans strapped into every available space.
On June 6th 1944, commencing at approximately 0400 hours, the craft began moving out to make for the beaches of Normandy. Weather and sea conditions, although better than the previous day, were still difficult and the craft experienced problems maintaining station in the line. Because of this the craft of 601 LCM began to proceed independently for the Normandy beaches navigating along one of the 'swept' channels cleared of enemy mines however, some craft soon found themselves in difficulty.
Captain Greens 'Leader' LCM 229 with Marine Coxswain F J Dorrel, boat officer Sub. Lt Page RNVR and Sub. Lt Herbert Pye RNVR broke down in mid-channel, the crew being picked up by the minesweeper HMS Poole. LCM 346 whose complement included Marines Timms and Billingham, arrived off Juno beach at 2030 hours on the evening of June 6th. At some point the 346 was in collision with another craft and holed badly portside (left) stern. The crew recorded being lifted by the USLC(G) 893. It would seem from that point onwards that LCM 346 was no longer operational being recorded damaged beyond economical repair.
Despite the unfavourable sea and weather conditions the craft found their way to their appointed places on Juno beach in the late evening of D-Day. Initially they came under bombing but their cargoes were successfully put ashore. Enemy activity was later reduced to hit and run air attacks, the dropping of many anti-personnel bombs and machine gunning especially at night. The hazards of the sea and beaches proved to be a far greater danger than enemy activity.
Initially the men of 601 LCM flotilla and those of other flotillas lived aboard the Depot Repair Ship SS Ascanius. It arrived off Juno Beach on the morning of June 8th having departed the River Thames the previous day to take up her station at Gooseberry 4... a harbour comprising sunken block-ships which was part of Mulberry A.
Following the storm that swept the Normandy coast between June 19th-22nd in which so many craft were damaged or driven ashore and wrecked 601 LCM transferred to the shore where they lived in dug-outs in a large field close to Bernieres-sur-Mer Railway Station. Martin Tyrell recalled that during the 3 day storm 8 craft of the flotilla were lost but records available on 601 do not appear to support that belief. The records also throw doubt on the accounts of 11 craft being lost on July 21st 1944 unless this refers to craft lost from those assembled including craft in tow and not necessarily part of 601 LCM Flotilla. It's not surprising that confusion reigned during this frantic and frenetic period.
In all, the craft of 601 LCM remained on station for a period of 6 weeks during which time the men and craft, with brief intervals for rest, ferried every conceivable type of stores and equipment from supply ships to the beaches. As the need for 'ferrying' craft diminished the number of LCM Squadrons was halved including 601 LCM and they were ordered back to England. It seems likely that craft of 650 LCM, or elements of it, were also ordered to return leaving the remainder of F Squadron in place on Juno beach.
For the homeward journey unmanned LCMs were assigned to LCTs (Landing Craft, Tank) to be returned to England under tow. By the evening of July 20th the craft of 601 LCM were lying in Gooseberry 4 stored and provisioned for the journey. Each manned craft had an unmanned LCM alongside for the short trip out to the LCTs anchored nearby.
The LCMs were not in the best of condition after 6 weeks of intensive ship to shore ferrying often in rough seas and high winds and there had been little time for servicing and repairs. 601 veteran Royal Marine Jim 'Nobby' Clark confirmed that his craft had certainly seen better days and was not in very good condition. His LCM was one of those lost on the journey.
At 0430 hours on the morning of July 21st 1944 601 LCM Flotilla weighed anchor and proceeded independently to rendezvous just off the beach-head with the LCT Flotilla.. The task of transferring the unmanned craft to the LCTs was completed by 0540 hours and the LCM flotilla formed up astern of one of the LCTs and a course was set for the swept channel. A thick blanket of mist descended which made station keeping extremely difficult and which raised concerns about craft becoming lost. For reasons of safety at 0700 hours the decision was taken to anchor. By 0930 hours the mist had cleared sufficiently to allow the flotilla to resume its journey in satisfactory weather and sea conditions.
A total of 15 manned LCMs formed part of the homeward bound convoy including 'Leader' LCM 1059 carrying Flotilla Officer Captain Green. The 1059 was a Mk3 LCM, an American built, diesel driven craft of 651 LCM Flotilla. It was larger and more powerful than the British LCMs and had been seconded for the journey home because it had superior navigation capabilities.
As the day wore on the weather gradually deteriorated, initially, the change was hardly perceptible, one moment the sea being calm with a rather heavy atmosphere and then, the craft were being battered by heavy turbulent seas coupled with thunderstorms. By 1720 hours the sea had become so rough that little or no headway was being made despite engines being used at full throttle. It was decided that the craft should return to Juno beach not the least of the considerations being that petrol supplies for the British Mk1 LCMs were getting low.
Prior to giving the order to turn about and return to Juno beach, Captain Derek Green, in the more powerful LCM 1059, fell out of line several times in order to round up the stragglers. When the craft had re-grouped a course was set for a return to the beach-head - they had been at sea for thirteen hours and some were beginning to feel the strain and falling behind. One LCM developed engine trouble soon after they had turned about and Sub Lieutenant Colin Backhouse in LCM 226 turned back to render assistance. The decision was made to take the crew off and the manoeuvre was started but the 226 and unknown craft collided causing damage to the stern of LCM 226 which put her steering out of action. The rescue craft had become unmanageable and was itself in need of assistance.
Flotilla Officer Green went alongside to render assistance and both crews were lifted by LCM 1059. The total number carried by her at that stage was three officers and twenty nine other ranks which included her crew, the rescued men, the reserve crew and part of the flotilla administration staff. Whilst LCM 1059 was engaged in this operation Captain Green ordered the rest of the flotilla to return to the beach-head with all speed.
By this time most craft and crews were suffering the detrimental effects of the rough sea, strong winds, heavy rain and sea water pouring over the sides. They soon became dispersed in to the darkness, 5 craft eventually reporting back to the squadron while other craft attained the beach-head at various points. (Here the historical record is far from precise. On the one hand it's claimed that 11 craft were lost on passage home but that detail did not form part of Martin Tyrell's recollection of events.)
On completion of her rescue operation LCM 1059 was isolated in the darkness of the English Channel with her then complement of thirty two men. Her remaining fuel supply appeared sufficient for the journey home to England and for some three hours thereafter reasonable progress was made. However, 1059 was becoming sluggish and investigation revealed that water was getting into the aft ballast tank through a leak in the propeller gland. Attempts to stem the leak were made but they proved fruitless. The water ingress continued and LCM 1059 became more and more sluggish. The officers aboard put lifebelts on the men too overcome with sea-sickness to do it for themselves and at 21.30 hours on the evening of July 21st LCM 1059 was overwhelmed and sank.
Every man aboard had some buoyancy aid such as a Mae West or a cork lifebelt but despite this the sole survivor was Sergeant Latham. He later recalled that spirits were high when the decision was made to continue on to England. The men rightly felt that their stronger and more powerful craft could safely complete the journey while the remainder of the flotilla, in the less sturdy Mk1 LCMs, sought the relative safety of the Normandy beaches. It was a tragic twist of fate for the men of 601 LCM Flotilla who 3 hours earlier had suffered the loss of LCM 226, experienced the joy of rescue by LCM 1059 only to find themselves once more at the mercy of the turbulent seas.
"Lady Luck" smiled on Sergeant Latham the following morning when he was picked up, at first light, after spending the night at the mercy of the sea. Visibility was very poor, but he had drifted into the path of a motor launch, patrolling off the beach-head. The launch immediately conducted a search of the area, followed by sea and air searches by Coastal Air Forces from Portsmouth but, sadly, all to no avail. [See Correspondence for 2016 message from Sgt Latham's son].
Veteran Royal Marine Stoker Jim 'Nobby' Clark was amongst the men of 601 who attained Juno beach. He could not remember how long he had been in the water or when he had been pulled clear by a rescue tug, but he did recall seeing the body of Flotilla Officer, Captain Derek Inglis Green floating by as the tug moved away. His body was never recovered.
It seems that Jim was picked from the water in isolation, most likely in a state of shock. He did not name his craft or his five comrades. Once on the beach he met Sergeant Latham and only then did he appreciate the full horror of what had taken place the night before. [Photos left; Nobby Clark in his "khakis" and "blues" courtesy of his son Jim.]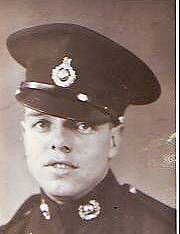 Royal Marine Corporal John Lordon spent a considerable time at the mercy of the elements before being retrieved from the sea. He never again saw active service. After recovering from his ordeal he spent the remainder of the war inducting new recruits into the Royal Marines.
The LCM carrying Royal Marine Jim Colvin eventually attained safety after being taken in tow by a rescue craft, possibly a tug. Colvin and his crew were later repatriated to England where they, not surprisingly asked questions about the fate of their comrades on July 21st. His persistence appears to have earned him a reputation as a 'trouble maker' and his questions remained unanswered when he was later transferred to the Far East. At the end of the war h
e returned his campaign medals to the War Office in protest against the apparently indifferent attitude of the military authorities and their silence on the matter. Jim Colvin's son recalls that his father made it quite clear to the War Office where they could stick his medals! [Photo; Jim Colvin courtesy of his son James Colvin.]
Royal Marine, John William Collins (left), worked locally to home in Bournemouth, Dorset, before he volunteered to join the Royal Marines in 1939. He was known to friends and family as 'Bill' and was engaged to be married to Eileen Lodge. He served in 601 LCM Flotilla and, sadly, was lost at sea on the 21st July 1944.

601 LCM FLOTILLA

JULY 21st 1944

Royal Marine Captain Derek Inglis Green
Sub. Lt Colin Backhouse RNVR
Royal Marine Lt. Edward Meras Aylan-Parker
Royal Marine Sergeant Frank Harris
Royal Marine Sergeant Ernest Spence
Royal Marine Corporal Arthur Tidy
Royal Marine Corporal Joseph Barber
Royal Marine Eric Beadle M.I.D
Royal Marine Edward Knight
Royal Marine John Tillie
Royal Marine Maurice Bradshaw
Royal Marine John Collins
Royal Marine Ralph Jellicoe
Royal Marine Thomas Lowe
Royal Marine Kenneth McKenzie
Royal Marine John Marshall
Royal Marine Jack Pattison
Royal Marine Daniel Sharp
Royal Marine Ronald Smith
Royal Marine Peter Brookman
Royal Marine Jack Child
Royal Marine William Dunwoody
Royal Marine Hillary Edwards
Royal Marine William Goddard
Royal Marine Thomas Hamilton
Royal Marine Reginald Holmes
Royal Marine William Stewart
Royal Marine Harvey Taylor
Stoker Thomas Race RN

FRANCE

Royal Marine Lance Corporal Thomas Langan
Royal Marine Ronald Andrews


650 LCM FLOTILLA

AT SEA

Royal Marine Corporal William Daw
Royal Marine Walter Tillett
Royal Marine John Petrie
Royal Marine James West
Royal Marine William Turnbull

FRANCE

Royal Marine Henry Diviny

FOR THE FALLEN
by
Laurence Binyon

They shall grow not old
As we that are left grow old
Age shall not weary them
Nor the years condemn
At the going down of the Sun
And in the morning
We will remember them.

THE ROYAL MARINES PRAYER

O Eternal Lord God, who through many generations has united and inspired the members of our Corps, grant thy blessing, we beseech thee, on Royal Marines serving around the Globe. Bestow thy Crown of Righteousness upon all our endeavours and may our Laurels be those of gallantry and honour, loyalty and courage. We ask these things in the name of Him, whose courage never failed, our Redeemer, Jesus Christ,

Amen.
In 1951 a memorial seat was donated by the 'D-Day Survivors Society' who wished to commemorate the kindness shown to them by local residents of Itchenor during the time they were stationed there while preparing for the invasion of Normandy. The Memorial Seat was dedicated at a place overlooking Chichester Harbour, on July 21st 1951, seven years to the day after the tragedy that befell 601 LCM Flotilla in the summer of 1944. Since that event an annual service has taken place within the first week of June. Captain Angus Forrest RM taking the salute at the 1951 ceremony.
IN MEMORIAM

601 ROYAL MARINE

LANDING CRAFT FLOTILLA

IN MEMORY OF THE OFFICERS

AND MEN OF

THE ROYAL NAVY AND ROYAL MARINES

WHO LOST THEIR LIVES

WHEN RETURNING FROM

THE NORMANDY BEACHES ON

JULY 21st 1944.
| | | | | | | | |
| --- | --- | --- | --- | --- | --- | --- | --- |
| | | | | | | | |
| 1 | 2 | 3 | 4 | 5 | 6 | 7 | 8 |
Photo 1. Before the unveiling of the seat. [Photo courtesy of Steve Knight.]
Photo 2. The first dedication ceremony on July 21st 1951 with once Lieutenant later Captain Martin Tyrell of 601 LCM Flotilla standing immediately behind and to the left of the presiding vicar. [Photo courtesy of Chris Bradshaw, grandson of Maurice Bradshaw.]
Photo 3. Enlarged photo of Captain Angus Forrest RM taking the salute at the ceremony. [Photo courtesy of Chris Bradshaw, grandson of Maurice Bradshaw.]
Photo 4. Veteran Royal Marine Reg Blake who served with 803 LCV(P) Flotilla in Normandy. When he passed through Itchenor in 1976 he saw the dilapidated condition of the seat dedicated to the men of 601 LCM and resolved to do something about it. Together with friend Dennis Drew and with the help of Royal Marines "Globe & Laurel" magazine, local newspapers and the local council, he set in train a course of events that raised the funds from local people and ex-paratrooper David Purley GM who became famous in the world of motor racing. Purley was awarded the George Medal after attempting to rescue fellow racing driver Roger Williamson following a fatal crash during the 1973 Dutch Grand Prix. On June 6th 1978 a brand new seat, far superior in quality to the original, was dedicated. [This photo and 4, 5, 6 & 7 below courtesy of veteran RM Reg Blake.]
Photo 5. Dr. Martin Tyrell reading the Roll of Honour of the men of the Royal Marines and Royal Navy who were lost on July 21st 1944 whilst serving in 601 LCM Flotilla.. Standing to his right is the Royal Navy Padre from Portsmouth. On his immediate left is George Morrison and then John Roles who also sailed in the 601 Flotilla.
Photo 6. Veteran Royal Marines of 803 LCV(P) Flotilla at the Itchenor Memorial seat Circa 1995. L - R were Phil Crampton, Andy Anderson, Ray Hemsley, Reg Blake, Ken Reeves and Ron Dunham.
Photo 7. Veteran Royal Marines paying their respects to fallen comrades on June 6th 2008. Standing on the extreme left of the group next to the RM bugler is former Lieutenant (later Captain) Martin Tyrell RM who survived the tragedy that befell the 601 LCM Flotilla on July 21st 1944. Sadly he passed away in May 2009.
Photo 8. Three veterans of 803 LCV(P) Flotilla at Itchenor at the same event in 2008. In the centre is Reg Blake seen above in photo 3. With him were Ray (Yorkie) Hemsley left and Phil Crampton right.
2010 Service. A remembrance service was held at 1100hrs on Friday 4th June at Itchenor Hard to honour those members of the 601 LCM Flotilla who lost their lives on the 21st July 1944. The service was organised by Mr Peter Dean and Mr Peter Arnold of the Itchenor Society and was attended by 190 people. The welcome address was given by Reg Blake of the Royal Marines followed by the History of the Memorial Seat by Lt Col John Davis OBE. Captain Johnny Talbot RN read the 32 names of the members of the flotilla lost at sea. Mr Peter Dean, Chairman of the Itchenor Society, laid a wreath on behalf of the residents of Itchenor. There followed the Last Post and a one minute silence before the Reveille. Finally the Exhortation and Prayers were led by the Reverend John Williams. [Photos below courtesy of Peter Arnold, Honorary Secretary, Itchenor Memorial Society.]
| | | | | | |
| --- | --- | --- | --- | --- | --- |
| | | | | | |
---
Men Who Sailed with 601 (and not included elsewhere in this account).
Royal Marine Corporal Arthur (Mick) Victor Tidy

, PO/X 118747, 601 LCM Flotilla. Died 21 July 1944, Age 19. His name and details are on the 1939 - 1945 Portsmouth Naval Memorial. Mick was the beloved youngest son in a family of five children and all were devastated by his loss. What made his death more poignant for the family was that he couldn't swim. However, he was very keen to do his duty and to serve his country

.

Added here, in his memory, by his niece, Sandra Garrett.

Royal Marine Maurice Bradshaw sailed with LCM 601 Flotilla and was one of those who died on the 21st July 1944. Before the war he had been given a trial for Portsmouth Football Club. In the photo opposite he is on the extreme left of the front row. What the occasion was or the identity of the group is not known for certain but thought to be an army football team.

Royal Marine William Alfred Goddard was lost at sea on the 21st July 1944. He was born William Alfred Fletcher but through adoption he became known by his new family as Peter Goddard. [Photo courtesy of Duncan R G Jolly.]


Royal Marine Edward Albert Knight whose name is on the Roll of Honour above.

[Photo courtesy of his nephew Steve Knight].

More photos and brief biographical details welcome. Please use "Information for Website" on our "Contact Us" page.
For those with a deep interest in the subject here are details of the craft that formed 601 LCM Flotilla throughout the period June 5th through to July 31st 1944. For the period up to June 25 they are as recorded above in the text for D-Day. After the severe storm which raged for several days from June 19 the composition of the Flotilla changed as craft lost or damaged were replaced. Thanks are due to Mike Long who obtained the information from the National Archive at Kew, London.
Normandy war losses from 601 Flotilla were listed as; 168. 180, 216, 226, 229, 330, 346, 383 and from 650 LCM 1197, 1212, 1240, 1278.
| | | |
| --- | --- | --- |
| Date | 601 LCM Flotilla | Notes |
| 24/06/44 | 168, 180, 199, 226, 266, 276, 298, 339, 346, 383, 387, 411, 428, 449, LCM(3)'s 502 and 511. | Leader LCM 229 is missing on the above date so must assume that news of her loss had filtered through. LCM 346 seems to have been non-operational since her arrival in Normandy on June 6th when she was damaged....that situation appears to have continued throughout. |
| 03/07/44 | 166, 168, 180, 199, 236, 238, 256, 266, 276, 298, 339, 346, 383, 411, 449. | On the above date166 and 168 recorded in need of repair. The 346 and 383 recorded damaged beyond economical repair. |
| 10/07/44 | 166, 168, 180, 199, 236, 256, 266, 276, 298, 339, 346, 383, 411, 428, 449. | Recorded in need of repair on this date are 180, 236, 238, 256, 276 with 346 and 383 still non-operational. |
| 17/07/44 | 168, 180, 199, 226, 236, 238, 256, 266, 276, 298, 339, 346, 383, 411, 428, 449. | LCM 166 missing from list. LCM 226 also shown present although believed lost on July 21st. |
| 24/07/44 | 166, 168, 180, 199, 226, 236, 238, 266, 276, 298, 339, 346, 383, 411, 449, LCM(3) 502 and 511. | LCM 226 still recorded present. |
| 31/07/44 | 199, 226, 266, 298, 339, 346, 383, 411, 428, 449, LCM(3) 502 and 511. | LCM 166 missing from list. Although no details are recorded against any of the craft on July 31st still listed are LCM 226 and 346 and 383. |
| | | |
| | Mk3 LCM 650 Flotilla: | |
| 6/6/44 | 1100, 1164, 1197, 1212, 1213, 1214, 1215, 1216, 1234, 1235, 1236, 1240, 1241, 1242, 1277, 1278. | LCM in italics are 'War Losses' in Normandy. |
Editorial Note; The craft of LCM Flotilla 650 of F Squadron have once more been included in this account which is primarily about LCM Flotilla 601. For the sake of accuracy it should be noted that there is no documentary proof that 650 was involved in the same crossing of the English Channel as 601 on July 21st 1944 although the author strongly suspects that they were. Furthermore the Royal Marines lost from 650 LCM may have been lost from various craft of the flotilla or may have formed the crew of one of the LCMs recorded as lost.
Of those lost from 601 LCM Flotilla only two have known marked graves - Royal Marine Corporal Thomas Langan who rests in Dannes Cemetery and Royal Marine Ronald Andrews who is buried in Calais. Royal Marine Henry Diviny of 650 LCM is interred at Boulougne Eastern Cemetery. [Photos courtesy of Robert Guthrie. Middle front row is Tommy Langan in the late 1930s. He was a promising football player and was capped for the Scottish Junior International team].
Corporal George Morrison RM. For some time prior to June 6th Morrison had been employed as flotilla clerk. He was regarded as Number 1 Reserve Coxswain in charge of Number 1 Reserve Crew and as such was not part of a specific crew so an LCM was not allocated to him.
Prior to setting off for Normandy Captain Green gave permission for Morrison to take passage with his friend Lance Corporal Thomas Langan. They had been great friends since they 'joined up' together in May 1943 but immediately prior to departure the decision was reversed and Morrison took passage in the LCM of Coxswain Lance Corporal Bambrick. That change of mind by Captain Green doubtless saved Morrison's life since Lance Corporal Thomas Langan and his crew perished in the storm.
As they set off for England on that July day Morrison recalled that the weather was sunny but later it became very foggy and that they had problems seeing the craft ahead of them. While struggling in the fog Bambrick's craft hit some obstruction, possibly the craft ahead of them. They immediately reduced speed and soon after they lowered the Kedge anchor to wait for the fog to lift.
When the fog eventually lifted Bambrick's LCM was by itself. The LCT that had been guiding them had disappeared and no other craft or ship was in view. They resumed passage to England using a due north compass bearing. It might not take them back to the safety of Itchenor but they would certainly arrive somewhere on the south coast of England.
During the afternoon a landing craft was sighted ahead of them. It appeared to be abandoned with its Kedge anchor down and the cable apparently wrapped around the screws. They went alongside because Bambrick's stoker/driver hoped to find petrol to supplement his diminishing supply. However, the sea had turned decidedly rough and attempting to pull alongside would not prove easy. After several aborted attempts the idea of tying up alongside was abandoned. The only boarding option left was to jump aboard as the two craft closed together. Since there were no volunteers and given that he was senior person on board, Morrison decided to attempt it. The first pass failed but on his second attempt was successful and he immediately began checking the petrol supply. Most of the cans were full and they were quickly transferred by way of holding the two craft together by means of a boat-hook and then throwing empty and full cans back and forth between the two craft. When completed Morrison returned to his LCM.
Later that day the stoker/driver reported that one engine had stopped and would not re-start but he opined that the craft could still maintain headway and continue her journey to England. As day turned to night the storm increased in its ferocity and eventually all the crew were overcome by sea-sickness with the exception of Morrison himself. Throughout the period he had stood in the cockpit facing the wind constantly chewing hard biscuits. It was that he believed that kept the sea-sickness at bay. The memory of that night of July 21st 1944 never left him The waves were enormous and rose well above the ramp. At times he was sure that neither he nor the men with him would survive, expecting the craft to sink at any minute after being overwhelmed by the sea.
Morrison had never been so scared in all his life and the fact that the remainder of the crew were overtaken by sea-sickness and unable to share his concerns did not help. They appeared to be quite oblivious to the enormity of the situation they were facing. It is often said that people near to death by drowning see their life pass before their eyes. It was certainly true for Morrison that day.
By the morning of July 22nd the storm had abated and the crew had recovered. Throughout the night the stoker/driver had managed to keep the one engine working despite the fact that he spent the night sitting in the engine room vomiting into a bucket firmly clasped between his knees. But their problems were only beginning. Shortly after daylight the stoker/driver declared that the second engine had stopped and would not restart. Lance Corporal Bambrick's LCM was now without power and drifting. The spirits of the men, already low, dropped further when it was noticed that the bows of the LCM were getting lower in the water, the craft was taking in water forward and there was no means of stopping it.
They concluded that the bows had been damaged the previous day causing the forward bilge tanks to fill up. Later in the day when the sea became choppy more water was washed aboard causing the bows to sink even lower in the water. It was agreed to lighten the LCM by throwing all unused petrol cans, kit bags and rifles over the side. Boots were removed and the men put on their 'Mae Wests' and made ready to 'abandon ship' if required to do so.
On the point o despair salvation came initially as smoke on the horizon which later as small ships in 'line abreast' formation. The ships were a fleet of minesweepers doing a sweep and Bambrick's LCM had drifted into an un-swept channel ! The signalman made contact with the minesweepers using SOS and one of them went alongside to take the LCM in tow which was soon aborted when it became evident that the speed of the minesweeper was pulling the LCM under. The minesweeper stopped, pulled the LCM alongside and took off her crew.
A jar of Rum was immediately produced and the crew of the LCM were 'ordered' to drink. They were soaked to the skin and their uniforms were white with salt. At the time Morrison was a teetotaller but the Rum made him feel much better even though he hated the taste. Despite the beneficial effect of the rum he never drank the stuff again. He reported to the Captain and gave an account of events that had taken place from the point of departing Juno beach until the SOS was picked up. Arrangements were put in hand to check the landing craft's engines and the degree of flooding.
The LCM crew borrowed some naval uniforms while their own dried off and they were given a first class meal in the seamen's mess followed by a well earned sleep. Space was limited so Morrison slept on a steel companion-way above the engine room. The LCM crew were so tired they could likely have slept standing up !
The following day Morrison was informed that the landing craft had been pumped dry but that both engines were still refusing to work and were beyond repair. A tug was called-up to tow them back to Juno beach to join up again with 601 LCM Flotilla. Back in their own uniforms again the crew left the minesweeper to take passage on the tug, with two volunteers from the LCM crew manning the landing craft.
Later that day they arrived back on Juno beach to be met by Lieutenant Martin Tyrell, who, to their great surprise, was delighted to see them. It was then that Morrison and Bambrick and the other crew members of the LCM were given the news of the terrible loss of life during the storm and that they themselves had been posted 'Missing Presumed Killed'. Later at the rank of Captain, Martin Tyrell took command of 601 LCM Flotilla replacing Flotilla Officer Derek Inglis Green lost on July 21st 1944.
Eventually Morrison and the other survivors from the landing craft found themselves back in England. During the passage home the weather was typical of summer......no wind, no rain and a calm sea, after arriving back in Portsmouth they made their way back to the place where it all began - Itchenor.
As this is being written during May of 2010 I have been involved with the veterans of the LST and Landing Craft Association for almost sixteen years, that beginning just prior to the 50th Anniversary of the D-Day Landings in Normandy in 1994. Initially, I was involved in private research, begun in the hope of answering a question raised by a family member, that particular project kept me engaged for a period of a year during which time I became very involved with veterans of this association and indeed veterans world-wide, for them all, I have the utmost respect and admiration and I count myself privileged indeed to have unlimited access to them.
This association in 1994 comprised many more veterans than it does today, the pass of time is now rapidly taking its toll of those who now remain within its ranks and there is talk of the association finally disbanding in 2012, if not before. That day, as and when it finally arrives, will be a very sad day indeed.
During the course of my early involvement I spoke to many veterans about their experiences during the war years and sought details of the landing craft or ship they were with at different times and the engagements in which they had taken part during the period 1942 to 1946. Some had been at Dieppe in August 1942 and with others, had gone on to serve in the Mediterranean. Amongst them were many who had been recalled for Operation Overlord, the D-Day landings in Normandy on June 6th 1944. For many men arriving on the beaches that day it was their first taste of action, sadly, for many men, it proved to be the last action in which they would ever take part...!!!!
Even for survivors, the experience left an indelible mark that was impossible to erase. Nobby Clark's son regrets that his father did not live to read this account of the tragic fate of the 601 LCM Flotilla. He feels that if his father had read it, many of the ghosts that remained with him from 1944 until the day he died, would have been laid to rest.
Many events were spoken of during the course of my numerous conversations, two tragedies always mentioned it seemed to me were the loss of men and craft of the 9th LCT Flotilla off Land's End during October 1944, now recalled on this website by myself, Bryan Shipston and Mike Long under the title 'The Lost Flotilla'.
The other, was the loss of the men and craft of the Royal Marine and Royal Navy manned 601 LCM Flotilla returning to England from Normandy on July 21st 1944. Although many veterans spoke of it, very few it seemed had any knowledge of what actually took place that day, many times I recall veteran Royal Marines speaking of the tragedy saying to me '601 LCM should never have been sent back given the weather at the time'...........!!!
What I lacked then was the true detail of events that took place, it is only during recent times that the truth has become known to me. At now approaching 66 years down the road since that July day in 1944 I record here what details have come to hand concerning the loss of the men of 601 LCM Flotilla. Also lost on the same day were Royal Marines of 650 LCM who this writer feels must have been part of the same homeward bound convoy although at the moment I am unable to confirm that detail. I may yet discover more, if and when that happens, it will be added here.
The Roll of Honour for all those lost is recorded above.
James Albert Latham.
I look on the internet from time-to-time, seeking anything relating to my father's wartime service, and was amazed to find your excellent website. On the 601 LCM Flotilla page, my father was the 'sole survivor' referred to. His full name was James Albert Latham, known as Jim, from Birmingham. You rightly said that Lady Luck smiled on him when he was rescued after a night in the water, but that was not the only time. On another occasion, he was on board a ship, playing cards, when it was sunk by a torpedo. When he was pulled from the water he was still holding on to his winnings!
I'll look out a photo of my father in uniform, which I'll copy to you, together with a photo of his map case. I wish I had found you website before his death in 2012, as your account of the 601 LCM Flotilla, may have got him talking about his war service, something he was never keen to do.
Many thanks to you, regards,
Royal Marine Ronald Smith. What a great website! At last I've been able to find out what happened to my uncle, Royal Marine Ronald Smith. From the Itchenor photos you have posted, I can see my parents. Ronald's sister Cissy (nee Smith) is still alive, the last of her generation in our family. I feel so honoured to be part of this history. Thank you so much for covering this WW2 tragedy and bringing it to light for future generations.
It would be great to hear from anyone who knew or served with my uncle. Click on the e-mail icon.
Regards
Ron English
---
The Sole Survivor. My father, James E Clarke, aged 90 in 2015, was with the 601 which set off for Normandy from Itchenor in June 1944. I read him your account and he remembered many of the names. He spoke to the sole survivor 'Latham' who gave him this account of what happened just 3 days after the sinking.
The craft was sinking as it took in water. Sergeant Latham told me that a lad from Blackpool had been trying to stem the aft leak but to no avail. Latham was soon in the water and he held on to a nearby cork ring life preserver 'belt.' A Canadian lieutenant, possibly Aylan-Parker, held on similarly, but sometime during the night he let go... either because he had died or simply because he could not hold on any longer. All the men were very sea sick to start with which was debilitating in itself, but when coupled to the cold sea water, their energy quickly drained away. Sergeant Latham was picked up in the early hours of the morning after spending about five hours in the water.
Regards,

---
2015 Remembrance Ceremony
The ceremony is scheduled to take place at 10.30 am on the 5th June 2015 and the wreath will be laid by our Chairman Mrs Alexandra Webb.
The event is held down on the hard by the Harbour Masters office. Best to park in the nearby Ship Inn car park.

With kind regards

Peter Arnold
Hon. Sec. Itchenor Society
There are around 300 books listed on our 'Combined Operations Books' page which can be purchased on-line from the Advanced Book Exchange (ABE) whose search banner checks the shelves of thousands of book shops world-wide. Type in or copy and paste the title of your choice or use the 'keyword' box for book suggestions. There's no obligation to buy, no registration and no passwords. Click 'Books' for more information.
Recalling the loss of the men of 601 LCM Flotilla returning from Normandy on July 21st 1944 by Tony Chapman, Official Archivist/Historian of the LST and Landing Craft Association (Royal Navy). Source material was drawn from the writings of Lieutenant (later Captain) Martin Tyrell RM MD and Corporal George Morrison RM both of 601 LCM Flotilla both sadly now deceased. Thanks also due to veteran Royal Marine Reg Blake of 803 LCV(P) Flotilla for his support in this endeavour, also to Danny Lovell and Mike Long for supplying details drawn from the National Archives.
Except for the author's personal reflections immediately above the material supplied by him about 601 LCM Flotilla was redrafted by Geoff Slee for
website presentation and approved by the author before publication.